"Mammalian Diving Reflex deserves a recognition that hasn't been invented yet" Khristián Méndez Aguirre, Guest Blogger, Fusebox
A unique performance using 360° video and live audio
Join three incredible young people from Bristol – Alke, Chris and Germain – as they explore how to make a gentler and more contemplative normal.
Just at the exact moment things were really supposed to start happening, this trio were forced to pause their lives. They had no choice, leaned into it and found themselves some simple joy.
The Lockdown Resolution combines 360° video and live performance to take the audience on a virtual tour led by three young Bristolians, for whom the pandemic offered welcome respite. The Lockdown Resolution is about the quandary on so many minds: should we ever go back to the way we were before?
After IBT15's incredible staging of Nightwalks with Teenagers, we are delighted to welcome back Mammalian Diving Reflex to premiere this digital adaptation of their successful 2015 work.
The Lockdown Resolution was created entirely during the pandemic. This hybrid performance can be enjoyed either in person at Arnolfini with 10 people socially-distanced or remotely from home. Choose from daytime or evening slots and we'll confirm full details once you're booked.
Director: Darren O'Donnell
Codevisors and performers: Alke Schwarz, Chris Lewis, Germain Loud
Creative Advisor and Editor: Fi Nicholson
Dramaturg: William Drew
Guest Dramaturg: Jana Eiting
Produced for Mammalian by Ryan Lewis, Tina Fance & Alice Fleming
---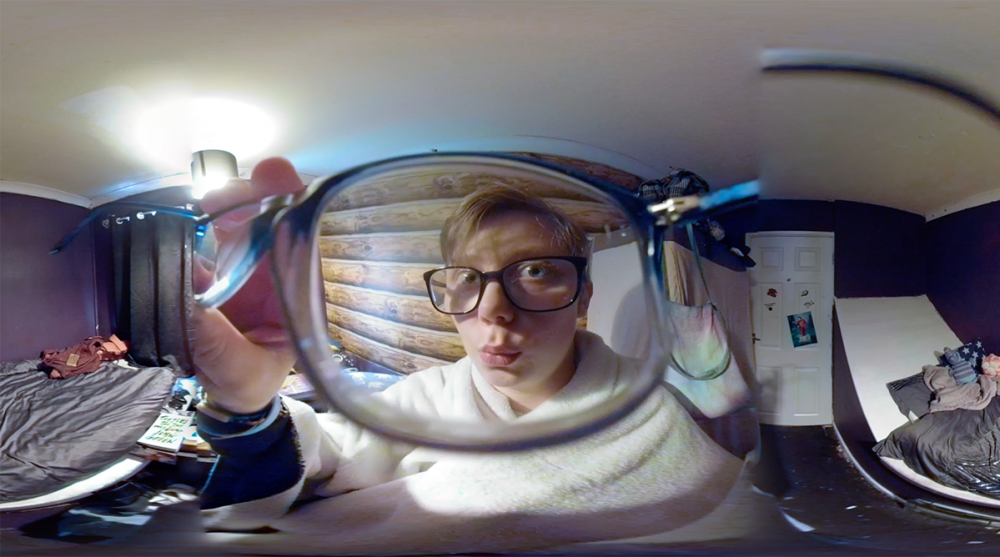 Image © Chris Lewis. Top Image © Mammalian Diving Reflex
About the artists

Mammalian Diving Reflex is dedicated to investigating the social sphere, always on the lookout for contradictions to whip into aesthetically scintillating experiences. They create site and social-specific performance events, theatre productions, participatory gallery installations, videos, film, art objects and theoretical texts, collaborating with non-artists to create work that recognises the social responsibility of art, fosters a dialogue and dismantles barriers between individuals of all ages, cultural, economic and social backgrounds.

Mammalian brings people together in new and unusual ways around the world, to create work that is engaging, challenging, and gets people talking, thinking and feeling. They make ideal entertainment for the end of the world.

What to expect

The performance is experienced through a virtual reality headset and the zoom video call application on a smart phone.

If attending in person at the venue you will need to bring with you a fully charged smart phone with in-ear headphones connected and the free zoom video call application downloaded and ready to use. 

You will be provided with a virtual reality headset for the duration of the experience. Don't worry!! We will be on hand to assist you with how to use your headset and the zoom application on your phone.

If attending remotely from home, you will need to have a computer, smart phone or tablet with access to the internet. You will need to have YouTube and zoom video call applications downloaded and ready to use.

You do not need a virtual reality headset to take part in this experience from home, however you are welcome to use your own if you have one. A headset that supports a smart phone inside is preferred.

Further instructions will be provided when you buy your ticket.

This event is Covid Secure. Please do not attend if you have coronavirus symptoms or are self-isolating. Full refunds are available if you are unable to attend. To find out more about our refund policy and how we will keep you safe during your visit please see our FAQs.

Access

This is an interactive, audio visual experience requiring the use of headphones and virtual reality headsets whilst sat down for the duration of the performance. The venue is fully wheelchair accessible. 

We offer free companion tickets if required when booking to attend in person, at the venue. Please indicate on Eventbrite when prompted if you require an access ticket and we will be in touch. Alternatively contact us directly to discuss any access requirements at [email protected]