Thank you to all the amazing organisations who support our work.
We couldn't do it without you…
In Between Time is committed to supporting and developing people to produce radical art and ideas. We kick start careers and produce defining moments for incredible artists, producers and local people. We encourage public engagement in art works of courage, relevance and audacity across the UK and the world.
In the face of the Covid-19 pandemic, artists across the UK and the world reacted with dynamism and fervour that astounded us all. As the world repairs, small arts organisations face numerous challenges to their survival in unprecedented times. To enable us to continue to create unusual, radical, life-affirming, artistic experiences into the future we need your support. The arts community needs your support more than ever.
Join us and help enable radical artistic work and social change.
Your support will:
· Provide resources to artists and local people such as workshops, residencies, materials
· Enable mentoring and professional development opportunities for early-career artists and producers and those who otherwise do not have peer and industry support
· Support the commission and exhibition of inspiring artist's work
· Enable creative collaborations between local and international artists
'In Between Time has helped to widen my reach by giving me access to programmers and venues from the UK, Europe and further afield.' RACHAEL YOUNG, NEW BLOODS ARTIST 2017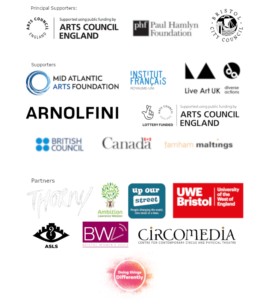 IMAGE CREDIT: Dancing With Strangers From England to Calais, Instant Dissidence © [email protected]