Extraordinary artwork with people from our city
We Are Bristol brings artists and citizens together to create art and find new and creative ways to explore issues in their local area and the wider city.
A collaboration between In Between Time, Ambition Lawrence Weston,  Eastside Community Trust (formerly Up Our Street) and UWE, We Are Bristol is a chance to challenge who art is for, where it happens and who can make it.
Residents have collaborated with international and local artists, they have printed, planted and performed, created films, built gardens and made guerrilla interventions into Bristol's streets.
The Story So Far...
We Are Bristol builds on our long-term commitment to our city's neighbourhoods that began with 2015's Night Walks with Teenagers by Mammalian Diving Reflex, and continued in 2017 inviting 45 incredible Bristolians from across the city to collaborate with New York theatre company 600 HIGHWAYMEN to create The Record.
Our first We Are Bristol project brought world-renowned Australian theatre company Back to Back Theatre to the city in July 2018 to create THE DEMOCRATIC SET, in which people that live in Bristol were invited to take part in a film of their city.
In 2019 Jessie Edwards Thomas and residents in Lawerence Weston created a garden with edible food – connecting generations, exploring spaces, discussing sustainability and what we need to flourish in an uncertain future.
Arts Enlarge used printing to offer people in Lawerence Weston an opportunity to meet, to create new rules and give voice to who and what matters to them.
US artist Kameelah Janan Rasheed collaborated with local artists Dee Moxon, Shagufta K Iqbal and women from Easton/Lawrence Hill and Lawrence Weston. Together they developed texts that shout out the values and future vision of each person involved, using the simple power of words to make incisive interventions onto the city's streets.
I can be creative and not scared to do things through fear of 'not being good enough' Participant from Easton
Artist Cigdem Aydemir offered people across Bristol the chance to sit on the back of a motorcycle and take an imaginary ride across an iconic Australian landscape. The result was a new international artwork, a Bristol version of 'The Ride'.
Bristol artist and Creative Exchange Lab Alumni Muneera Pilgrim joined us a resident artist along with Evaluator Gaia Rosenburg Colorni and UWE PHD Researcher Frances Bossom to undertake an in-depth research to explore different approaches for community co-creation, cultural democracy and the role of artists at a time of unprecedented global crises.
From this research 'The Joy Project' emerged. The first stage of the project is a collaboration between Muneera and women living in Bristol. Through virtual weekly workshops, during lockdown, they have been using conversation, poetry, visual art and performance to explore Joy, reflect on absence of Joy and develop strategies for connectivity and care.
---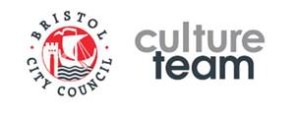 BANNER IMAGE: THE DEMOCRATIC SET © PAUL BLAKEMORE. GALLERY 1: LAWRENCE WESTON & GORAM FAIR © EVOKE PHOTOGRAPHY, GALLERY 2:(CLOCKWISE L TO R): CIGDEM AYDEMIR, THE RIDE © PAUL BLAKEMORE, THE DEMOCRATIC SET © PAUL BLAKEMORE
Sign up for our e-newsletter