'Painful, defiant and right' ***** The Stage
Out of the ashes of time, Voodoo rises.
Project O map the movement of their memories and the gaps in their knowledge whilst training their bodies to fall through time.
Communing with ghosts and conjuring new futures, Voodoo asks you to pay your respects, make peace with the dead. Now lay down your defenses and dance!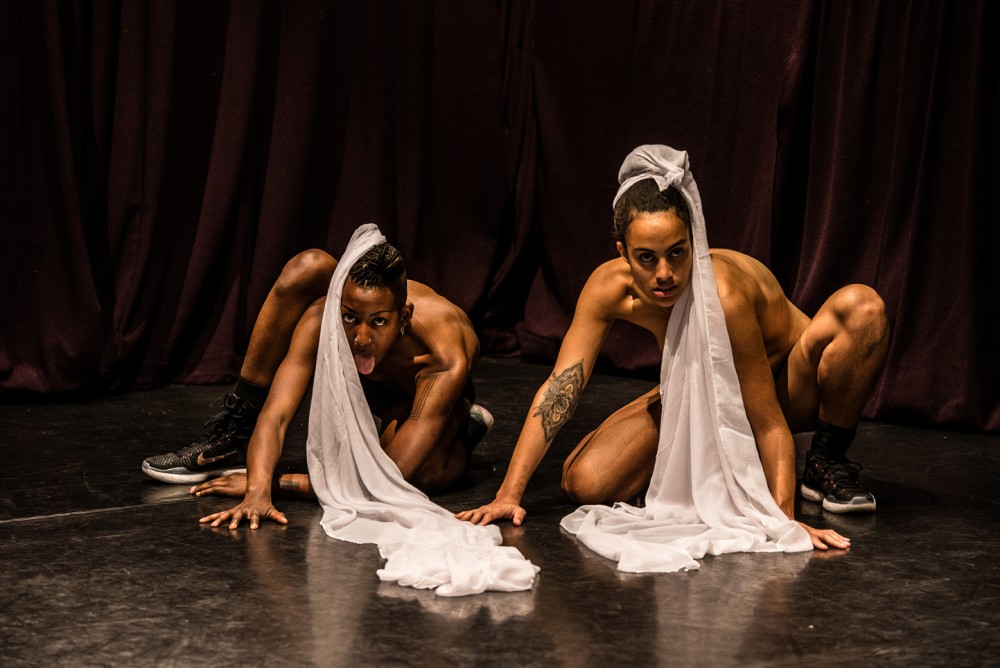 Images © Katarzyna Perlak
Touring Information

Reviews
"The ghosts of past persecutions, present realities, and future possibilities are embodied in these two figures who are both themselves and all of us, simultaneously." – TOTAL THEATRE

Production details
CONCEPT, CHOREOGRAPHY AND PERFORMANCE: Project O (Alexandrina Hemsley & Jamila Johnson-Small)
ASSISTANTS: Fernanda Munoz-Newsome & Malik Nashad Sharpe
COMPOSER: Verity Susman
LIGHTING DESIGN: Sarah Readman
SET DESIGN: Charley Fone & Naomi Kuyck-Cohen
SET BUILD: Elouise Farley
PROJECT MANAGEMENT: Toni Lewis
NUMBER OF PEOPLE ON STAGE: 4
NUMBER OF PEOPLE IN TOURING COMPANY: 7
FREIGHT: Option for set build at location via venue, excess baggage for costumes and smaller set pieces, extended wheelbase Sprinter type van
TOURING AVAILABILITY: May 2017 onwards
SCALE OF VENUE: Small-scale (capacity for show is 50 people per loop)
MINIMUM PERFORMANCE SPACE: 6m x 9m
TEXT-BASED: Medium-Heavy (Projected text and spoken text with a strong visual/physical element) ALSO CONTAINS: Strong Language

At IBT17
VENUE: Trinity Centre
PRODUCTION DATES: 8th and 10th February
PRODUCTION TIMES: 8th, 8pm and 10pm & 10th, 6pm and 8pm
DURATION: A four hour performance in two hour loops
AUDIENCE CAPACITY: 50 people per loop

Contact
ADDRESS: London based
EMAIL: [email protected]
CONTACT FOR TOURING: Toni Lewis [email protected]