'Magically funny'    Audience member
A creation conjured from the imaginings of children
Beastie is coming to Bristol. All the way here from some wild place.
In town for the first time, Beastie may initially be met with suspicion, even fear. But as the creature wanders the city's streets over the five days of the festival, this outsider senses our welcome.
Public Appearances
Beastie is in Bristol throughout the IBT17 Bristol International Festival appearing and disappearing at unexpected times and in the least likely locations. Keep your eyes open and your wits about you!
Workshops for Kids between 6- 10 years old
Share a jaw-dropping secret and let the children take charge as they create their own stories and explore Bristol's streets hand-in-hand with their special new friend.
10am + 3.30pm: Workshop & games 
The children do exercises, games and create their own creatures, before they meet Beastie.
1pm: Workshop with a walk 
The children learn about creatures before taking Beastie on an adventure to explore the Trinity Gardens.
Please note that workshops are only for children but parents and supervisors are welcome to stay at Trinity Centre and wait in the bar or feel free to wonder down Old Market and get a coffee whilst children are in the workshops.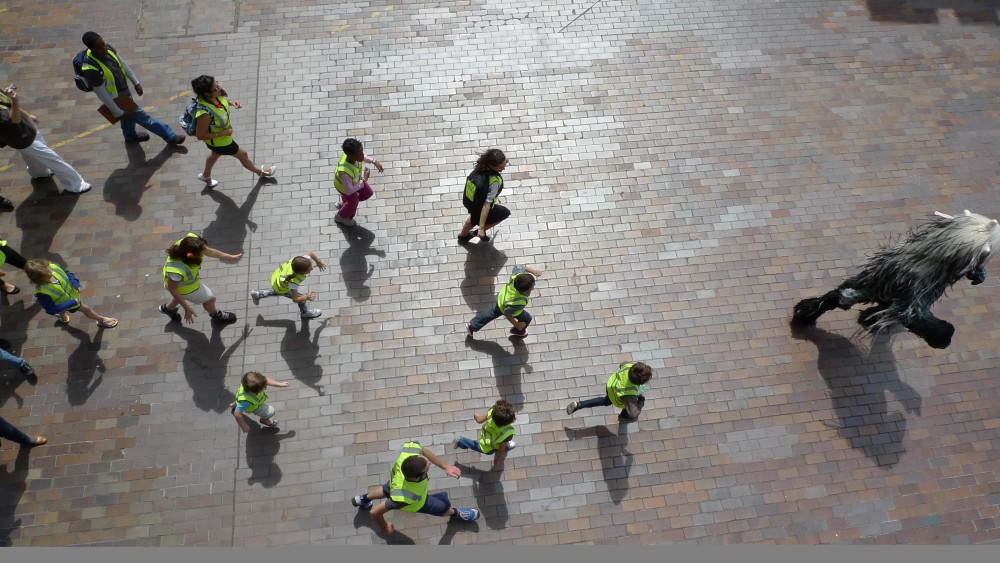 Images © Pekka Makinen
Touring Information

Production details
DEVISOR: Gary Winters and Gregg Whelan
DESIGNER: Darryl Worbey
NUMBER OF PEOPLE ON STAGE: 3
NUMBER OF PEOPLE IN TOURING COMPANY: 4
FREIGHT: 3 x Flight cases – total weight circa 350KG
TOURING AVAILABILITY: June 2017 onwards
SCALE OF VENUE: Small-scale
MINIMUM PERFORMANCE SPACE: 10m x 10m
ALSO CONTAINS: For children aged 6 – 10 only

At IBT17
VENUE: Trinity Centre
PRODUCTION DATES: 11th & 12th February
PRODUCTION TIMES: Various
DURATION: 90 MINS (no interval)
AUDIENCE CAPACITY: varies according to delivery model (between 12 and 200+)

Contact
ADDRESS: Banbury
EMAIL: [email protected]
CONTACT FOR TOURING: Gwen Van Spijk